Hi Jeff.
The addition of REX has put me back into FSX
Also with the superb work with GEX, its a whole new sim!!
Not to mention the update patch for the Mustang. Super work!
Flying is addictive, I always knew that.
I just realised that your pilots can wear oxygen masks! Turn the dial in front of the PF and they appear!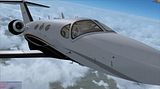 Cheers